This is the third in a series of articles about the kind of architecture that strikes a chord with me and why, brought to you because there are so many amazing buildings out there and too many of them pass us by.
Running a CGI company is an all-consuming, absorbing job…no two days are ever the same and because I have a passion for architecture and design, I always find my work intrinsically interesting. In fact, the more I work with different architects and bring their visions to life, the more I realise I should have trained to be one myself.
Yes, I was good at Art. And Science! If only there had been a switched on careers advisor pointing me in the right direction… But luckily life has a knack of gently pushing you towards your designated areas, even if you didn't realise what they were in your mis-guided and mis-spent youth.
A development which embraces Manchester's industrial heritage
One aspect of the designs I have come across recently that are very on trend at the moment, especially in the Far East, is the incorporation of nature into city centre apartments. Of course, as with L'Arbe Blanc in France which featured in my first article of this series, examples of community-focused developments featuring green spaces are hard to find in Manchester, especially in the non-luxury market. My hope is that what is starting to appear in the high-end sector will permeate down into more affordable housing in the near future.
During Lockdown Manchester sprouted the biggest number of cranes in any European city – mostly aiding the construction of high rise, build-to-rent apartment blocks. Many of them boast high end communal canteens, where an unlimited breakfast is included in the rental price of an apartment. They also tend to include a bar, swimming pool, spa and gym complex – it's a kind of high end community lifestyle package which is aimed at upwardly mobile professionals in their twenties – who are queueing up to rent the apartments at an average price tag of around £800 pcm per person (not including bills).
These developments are coming to define the modern Manchester skyline with their sleek elevations of steel and glass, bearing little relationship with the heritage around them.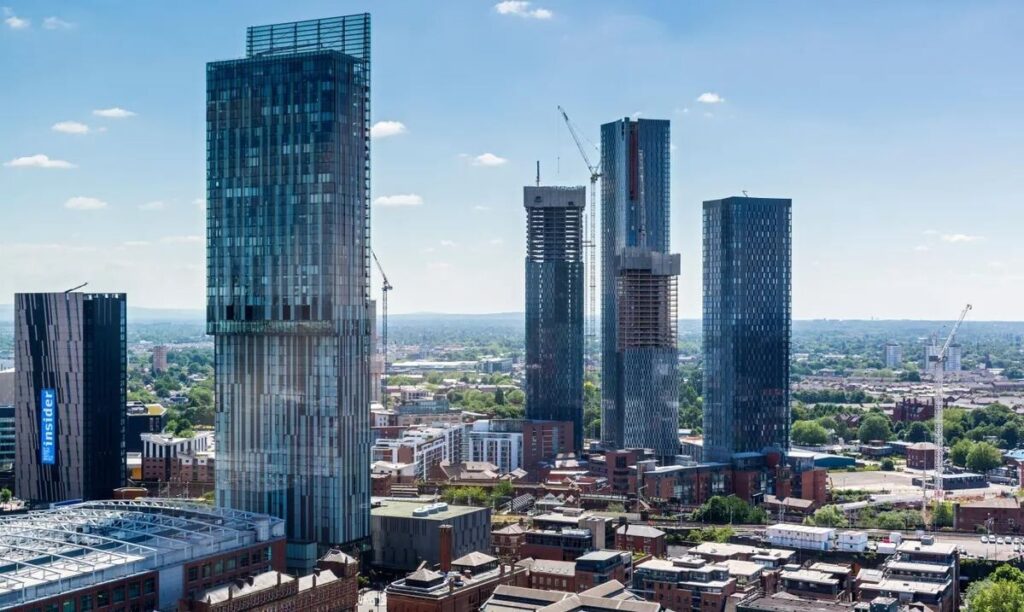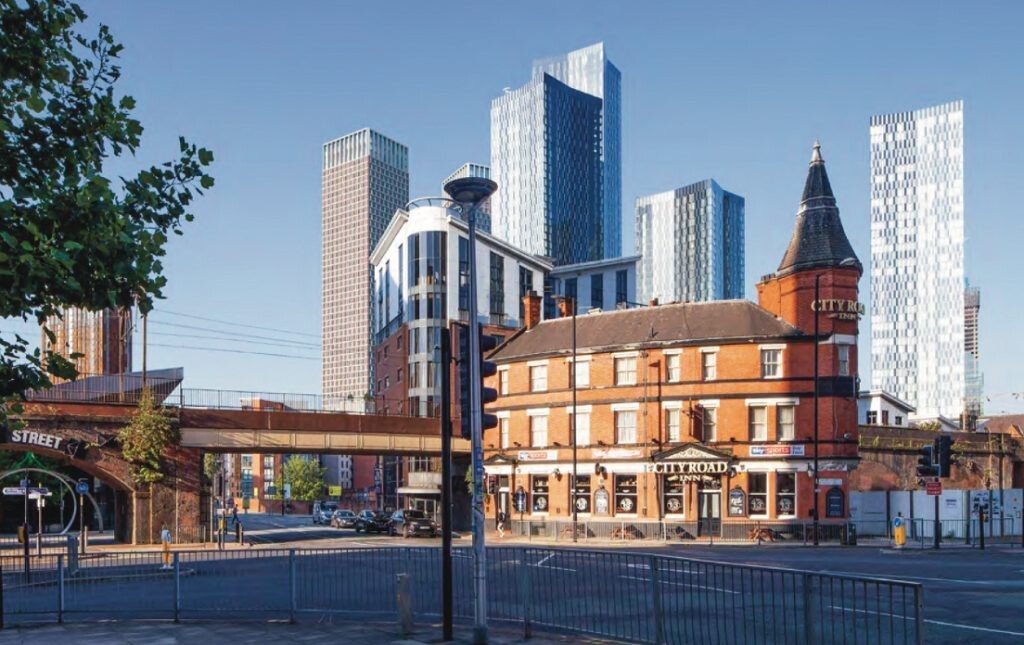 Embracing Mancunian architecture
It could be argued that this stark contrast between old and new is a purposely curated 'look' for our city, but I suspect it's more likely an unintentional result of town planners failing to consider the overall aesthetics and city heritage, leaving us with a jarring modernism mostly at odds with its historic surroundings.
But it doesn't have to be like this – we only need to look at cities like Liverpool and Bristol, where the more recently constructed buildings have taken heed of the architectural heritage around them. Indeed, cutting edge developers such as Lifestory are in the process of building mock Georgian crescents in Bath, but in Manchester there's an acute lack of Georgian crescents to mimic, so what can local architects do to embrace the history of the city whilst also creating buildings that bring a modern twist to the traditional red brick mills of the industrial revolution?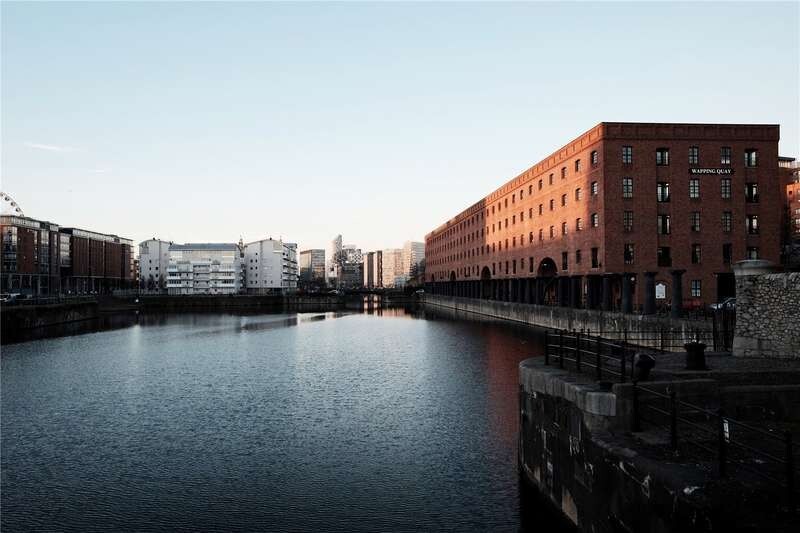 Developments in touch with Manchester's heritage
I feel that quite possibly De Trafford's No1 Castlefield, due to complete in 2024, seems like it will strike this tricky balance – its red brick facade paying homage to the industrial setting around it. Instead of becoming one more alien building thrown randomly into the urban landscape, it will instead complement its historic surroundings, providing its own fitting context to its innovative rooftop houses whose exteriors also pay a respectful nod to our industrial heritage with a stylish take on corrugated, factory roof design.
The streets in Manchester city centre being notoriously narrow, detached and even terraced houses with gardens aren't possible at street level and therefore remain in the city suburbs – but that's exactly what will be available with the rooftop houses seated on the very top of the apartment blocks.
It's perhaps a small exclusive taste of a new way of city living, albeit for the minority who can afford it and don't want the compromise of an apartment over a traditional house.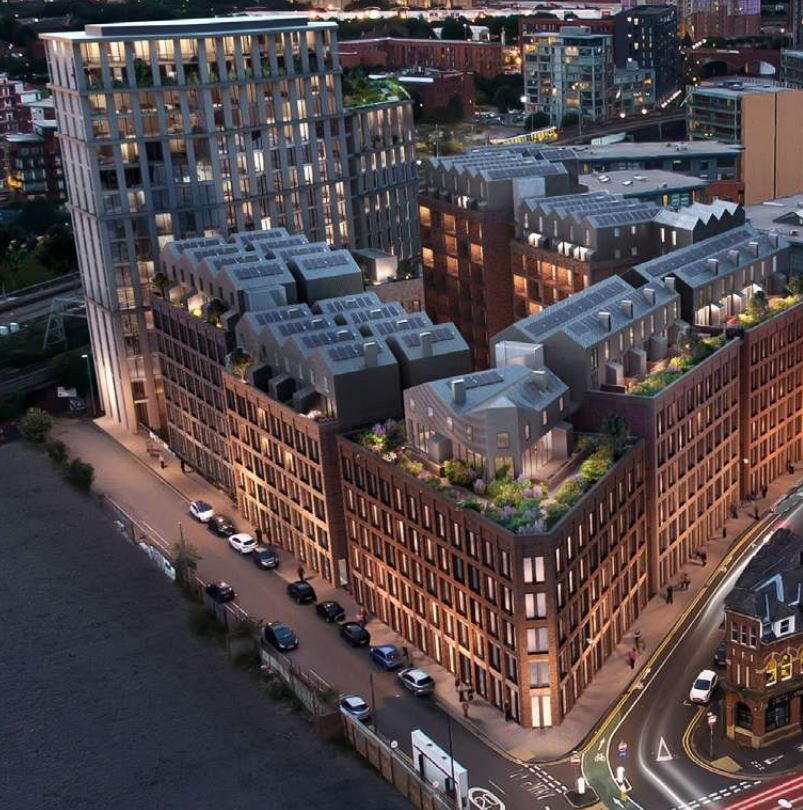 The designs were inspired by the neighbouring Grade II Listed building which sits opposite the site. The building is currently an architectural reclamation showroom, Insitu (formerly the Old Turville Public House) which was built around 1870, and in conjunction with the new De Trafford proposition, will sit at one of the city's gateways, just off the M602 approach into town.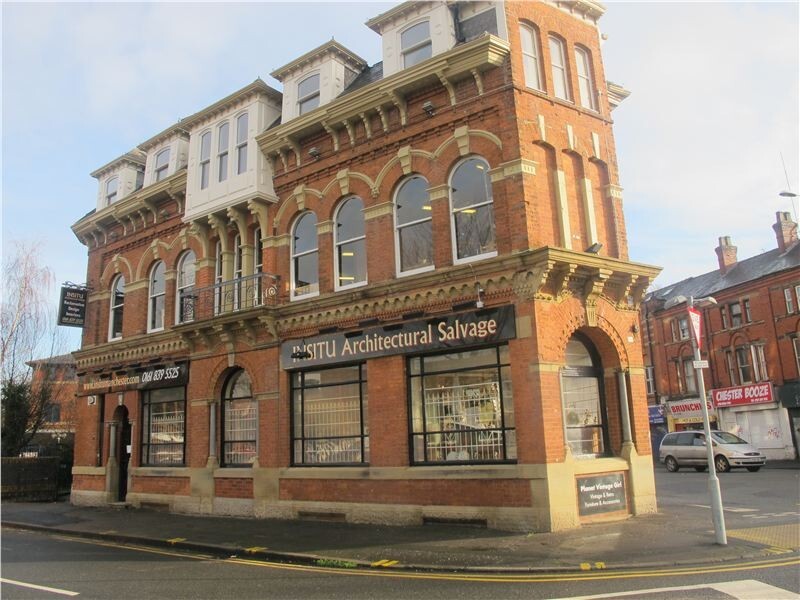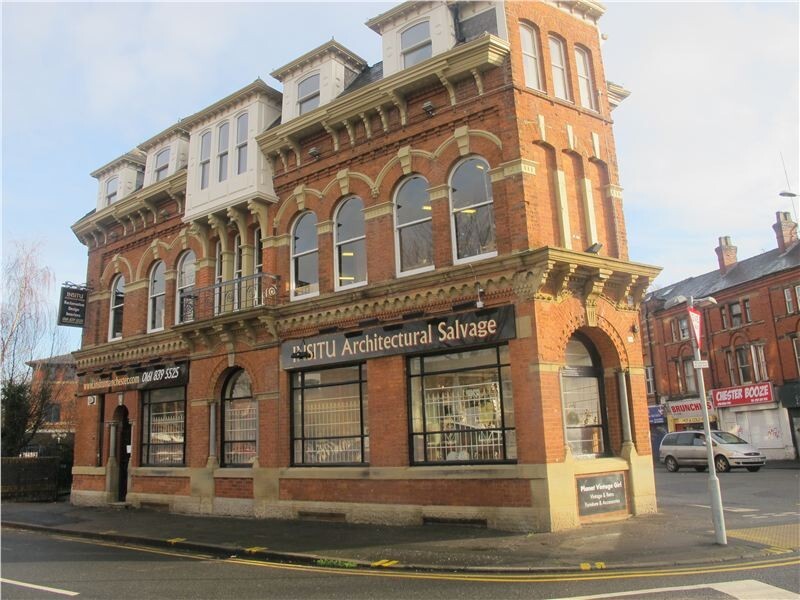 While Manchester boasts a slew of great parks and scattered greenery, De Trafford is taking the first steps to applying this to the city skyline. Few developments manage to show off a noticeable green space like No1 Castlefield has a good chance of doing.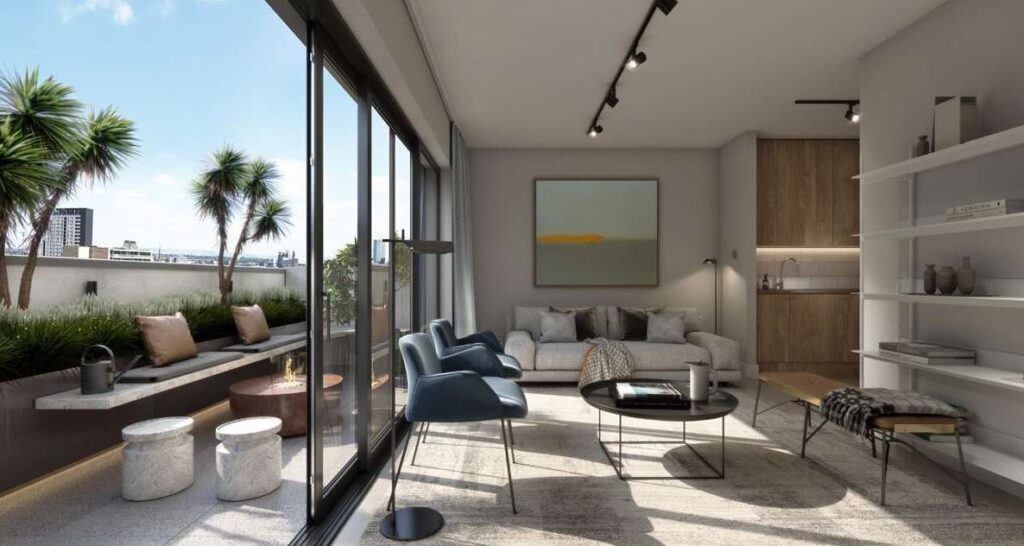 However, when we turn to look at the vestiges of the 'affordable' market, how far can design like this be stretched into a lower budget build? While affordable city centre apartments are unlikely to be a mainstream option, there is one recent development and another in planning, which demonstrate how developers and architects are trying to create affordable living spaces in Manchester city centre today.
Affordable apartments embracing green space in Manchester
Artifex apartments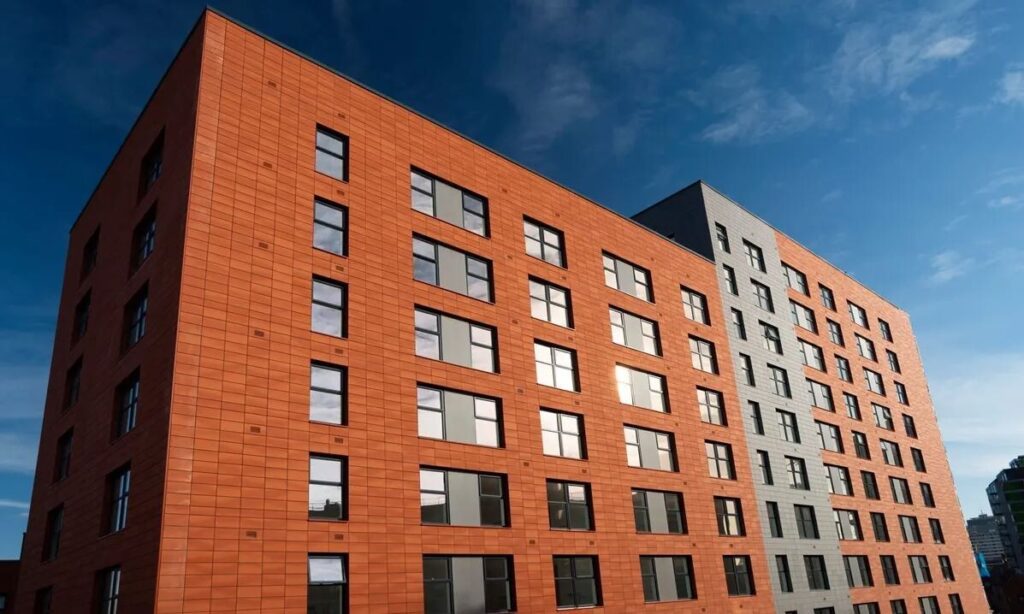 This recent Salford based development, named after Artifex, the pseudonym of a Salford based writer and champion of affordable housing, is certainly worth a mention.
Whilst real bricks have been abandoned in favour of a more cost-effective cladding, at least the colour choice here is in keeping with the city's historical buildings. There are no rooftop gardens, unfortunately, not even a communal terrace which could arguably have been created on a budget.
However, there is a modest area of green space surrounding the development. There may not be any balconies to provide a much needed breath of city air – but, if you are hell-bent on living in the city centre on a budget, one of these 2 beds comes in at a snip, setting you back a mere £680 per month on their rent to buy scheme. The look and feel is drab but neat, but perhaps the biggest point of note is that all the 108 apartments here are 100% affordable.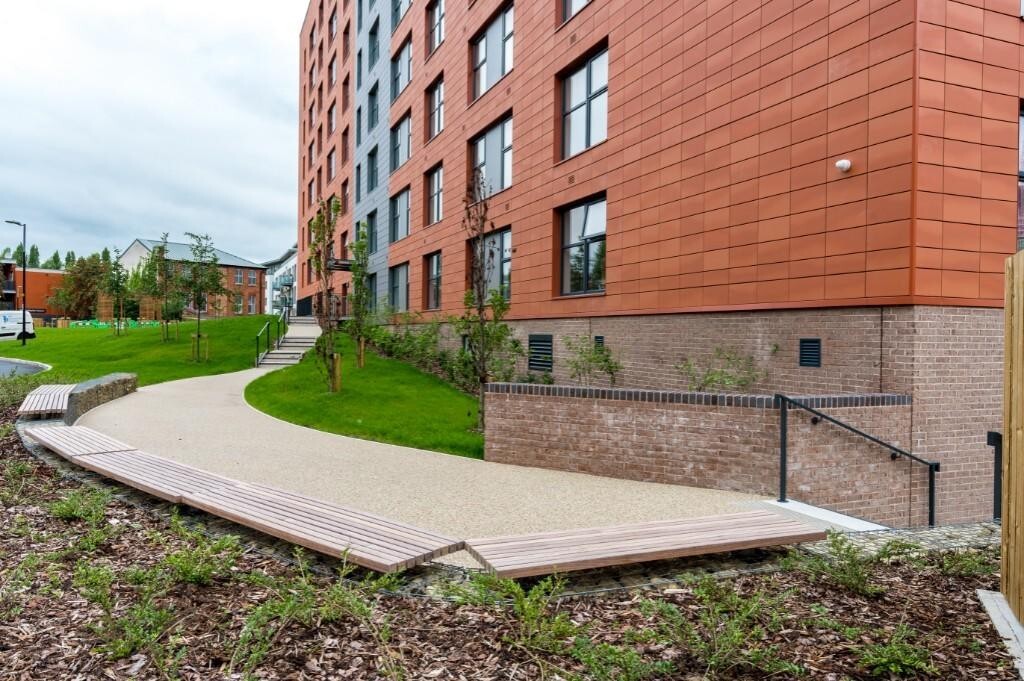 Latimer's new development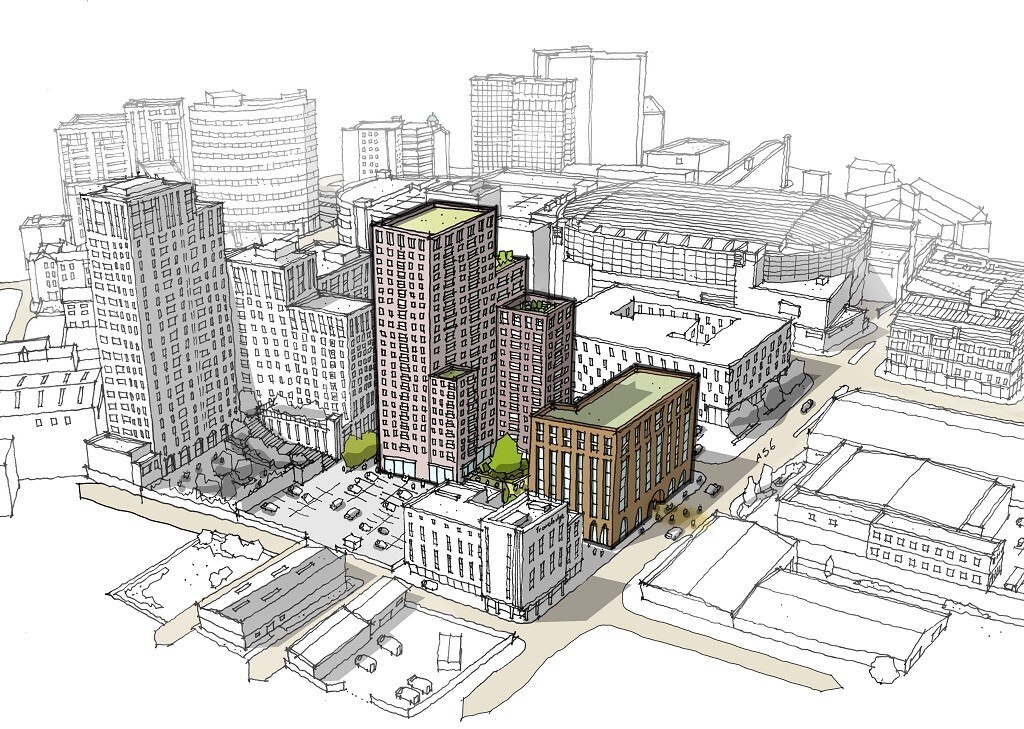 The newest development vowing to bring affordable, green and a slightly more interesting tower block living to the Manchester's cityscape is Latimer's new development, set on the former Boddingtons brewery site.
It will sit on the edge of Victoria station, providing 442 flats, 60% of which will be social housing. And here the will be communal spaces and green areas on the roofs. Initial images suggest that it will follow suit with a red brick exterior which suits its surroundings well.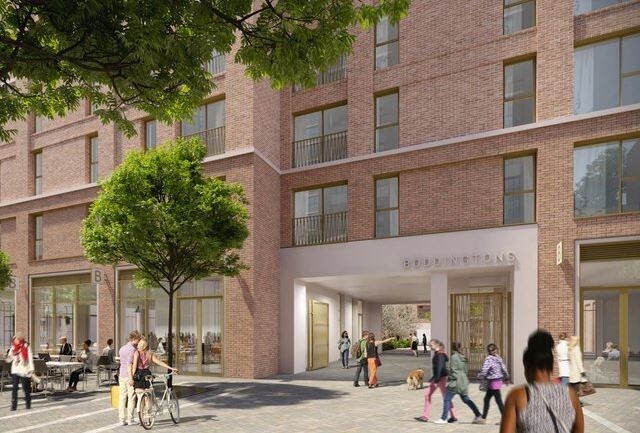 It seems that some of the newer, affordable developments are slowly gravitating towards tower blocks which encourage greenery, community and designs that fit with the architectural heritage of Manchester. Perhaps understandably, given the price of prime real estate, there will always be a shortage of affordable apartments in the city centre – let alone those with forward-thinking design features.
But even so, No1 Castlefield, Artifex and Latimer's new site are great examples for developers to follow, although whether the market will crash and render most of the city centre's apartment blocks affordable will remain to be seen.