When you are having trouble visualising how your dream home should look, why not consider using the power of CGI to help you decide? That's exactly what happened recently when we were approached by a home-owner to create a range of photo-montages to help him decide how to render his property.
Our client had lots of ideas but it's just the sort of thing that is really hard to get right with just your imagination, which is where CGI comes in. When making this important decision about his home, our client had so many questions that need to be answered, including…
Should I go for a full champagne frontage?
Do I just do part of the building in white?
What colour should the pillars be?
Should the soldier course remain brick-coloured?
Should the soldier course match the sandstone key-stone?
What about the quoins? Should they be rendered or remain a feature?
Knowing the answers to these kinds of questions in advance can save you time, money and hassle. Below is the range of photo-montages we created to help our client answer those questions.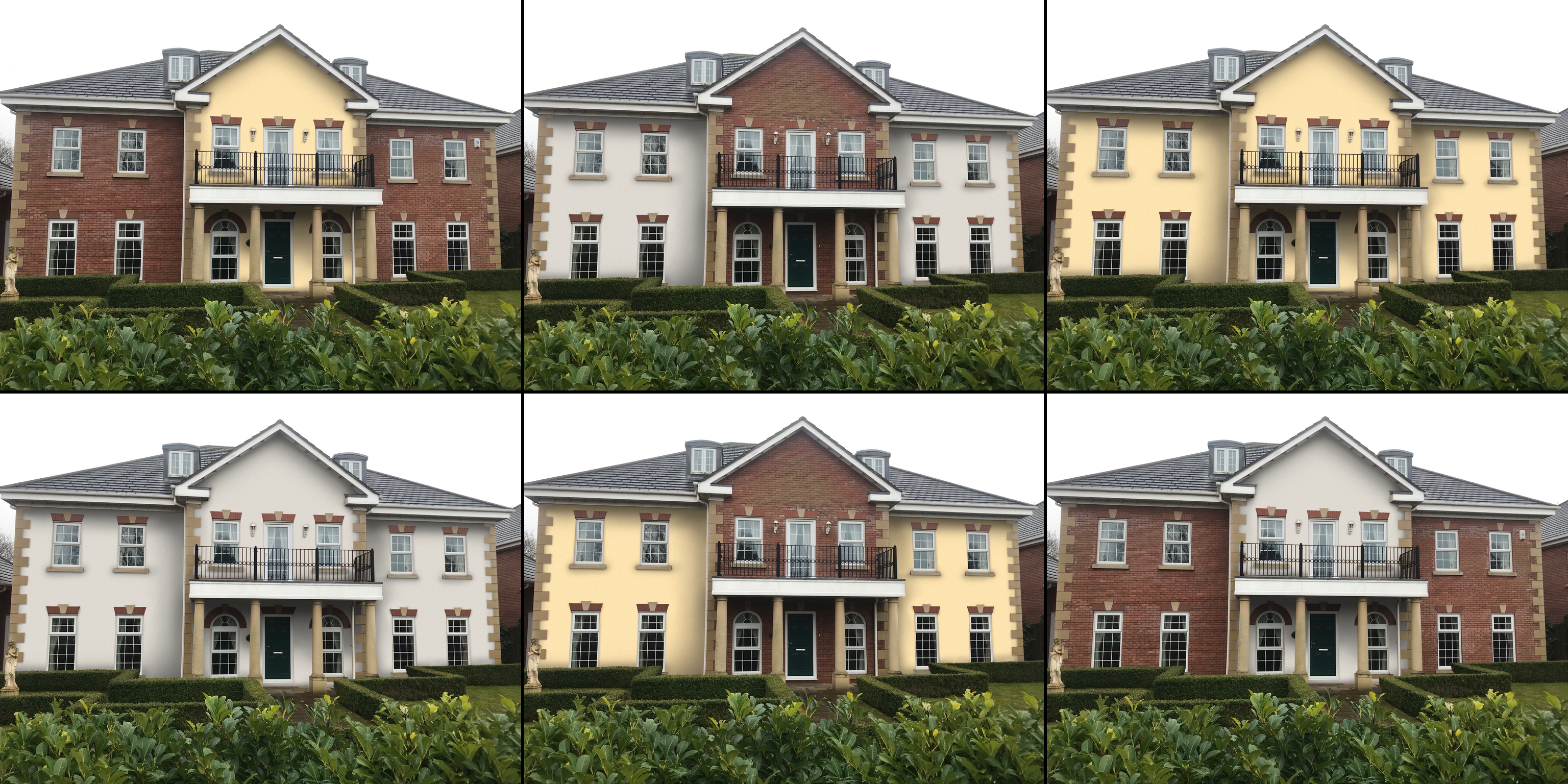 We know which is our favourite, which one is yours? Let us know in the comments.
Our client was delighted with the options we have created for him and all for less than £50 an image, these CGIs took the doubt and worry away from him. Instead, he has now entered into his refurbishment project confident in his choice of finish for the front of his property.
In the future, we might be able to hold our phones up and use an App to swipe through a range of renders and see them displayed live on the property, but for now, we have great photo montages from The Pixel Workshop!
If you are having trouble deciding how your property should look and need a photo-montage to help you make that important decision, give our friendly team a call on 0161 641 9083 or fill in our contact form to discuss your requirements.
Olivia has worked in marketing for the past twenty years, in a range of positions at Rock FM and Route Publishing. In 2016 she achieved a life-long dream; The Big Midweek, a book she had been writing with iconic Fall bass-player, Steve Hanley, was published to high critical acclaim. It was a pioneering way of over-hauling the tired format of the traditional rock memoir. Engaging the use of creative writing techniques, the book was written as a novel, with Steve's narrative portraying him as the main character in a weird and frightening world we can now all be party to. Growing up a little since then, her love of Grand Designs and doing up houses rivals her forays into the world of rock and roll. In her current role, she is lucky to be able to combine those interests and skills by developing The Pixel Workshop brand and earning its place at the forefront of 3D property visualisation marketing in the UK.