STRESS-FREE AND COST EFFECTIVE 3D EXTERIOR VISUALISATION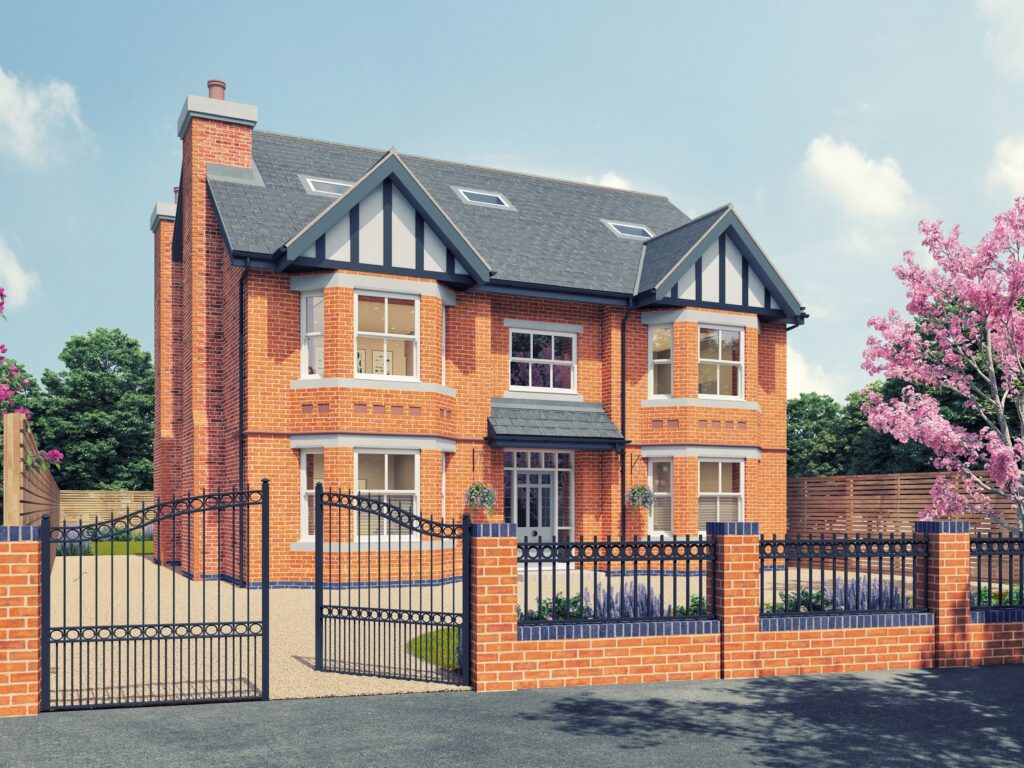 Sell your properties faster with cost-effective 3D exterior visualisations.
Our 3D exterior visualisations moves you ahead of your competition with a stress-free production process shaped by 15+ years' experience.
Why you should choose our 3D exterior visualisation services:
1. High quality
Our skilled and experienced team produce photo-realistic images.
2. Excellent value
We work with your budget but don't compromise on quality.
3. Punctual delivery
On time, every time, so you have peace of mind.
3D EXTERIOR VISUALISATION TO MOVE YOU AHEAD OF YOUR COMPETITION
Commissioning the right content is vital to the success of your marketing campaign. Tell us about your project so we can suggest which images will sell your properties faster whilst keeping within your budget. With over 15 years' experience in the business, we can offer expert advice and guidance whether you're completely new to 3D visualisations or not. We are transparent on price and will always ask you when you need your images by. The bulk of our business is loyal customers who come back project after project because quality imagery and great customer service is at the heart of every project we undertake. Get in touch for a chat about your next development so we can ensure aspirational images to captivate your audience and convert interest into sales.
WHAT CLIENTS SAY ABOUT OUR 3D EXTERIOR VISUALISATION
"This is the first time we have worked with The Pixel Workshop…We have been very impressed with the quality of their work and their approach to the process.
The images have allowed us to market the properties at an early stage in their development. With the level of interest we have received from buyers so far, we fully expect for them to be sold in advance of their completion – something that would have been unattainable otherwise."


Alex Marczycha, Marketing Manager, CZW Homes

"We wanted to find the right CGI company that would be able to deliver a set of CGIs within a tight timeframe but to a high quality. The Pixel Workshop was the right match for us as they were able to produce a fantastic set of CGIs in response to the demanding timescale. A big challenge was that we required additional CGIs and a bespoke film to go alongside the original commission but still with the tight deadline. The Pixel Workshop were very flexible and responsive to our needs and managed to deliver all the additional requests still within the deadline to a fantastic standard…"

Kat Wong, Consultant for Architecture, Planning and Design, Urbed.

"The Pixel Workshop really brought to life the vision for our new build new homes. They understood our brief and produced high quality CGI images, both internally and externally. The images have really complimented our homes and added value to our marketing. It has been great working with Olivia and the team."






Phil Jones, Senior Project Manager at First Choice Homes Oldham


WE WOULD LIKE TO FIND OUT MORE ABOUT YOUR PROJECT
TO MAKE SURE YOU GET THE BEST MARKETING VISUALS.
PLEASE GIVE A US A CALL OR DROP US A MESSAGE.
FAQs
Is the cost I'm quoted the cost I'm going to pay?
We are transparent about the costs of our 3D visualisation services from the get-go. Creating photo-real images from 2D architectural drawings and materials references is an artform and as such is open to subjective interpretation. Our quoted price includes any subjective changes, as well as a couple of small structural changes such as removing a fence, a chimney being moved, a Velux window added. The only time you may be charged extra is if you make alterations to your designs after we have shared the low resolution images with you, in which case we will charge the same rate as the original quote only for the time taken to make those changes.
What do you need from me?
We're not just a production line. At every point in the exterior house visualisation process, every expert in our team is playing to their strength. To make sure you get the best possible images and to keep your costs down, we'll ask you about your core market, price point and how easy / difficult you expect sales to be. We'll ask you for as many details up front as possible as we know this makes for a more efficient process.
What if there are several different departments that need to provide feedback?
It's best practice to funnel the feedback into one point of contact. At the start of the 3d exterior rendering process, we can make things easier for you by asking for information directly from your architect. However, if you need feedback from them, the sales department and the directors, we always tell you when to expect your 3d visualisations so you can arrange meetings in advance and keep production flowing.
Do you know what you're doing? What's your level of expertise?
Creating the best property marketing CGIs available starts from the point of concept – when we first take a look at your plans we make sure we find the camera angles which will show your properties off in the best light. We're a well-established company; we've been providing 3d visualisation services since 2005. During that time honed our systems and nurtured a team of experts. It's not just one person creating your image…we're proud of our team which includes a trained architect, a fine artist, a videographer / VR guru, a stylist, a marketing expert and an experienced project manager. We're a bunch of self-critical perfectionists who won't rest until we have produced the best possible content for you.
I've never commissioned property marketing CGIs before and I don't know what to expect
No problem, we'll walk you through the process. Our clients range from sole traders who are new to CGI through to large property developers and architects well-versed in 3d exterior rendering and already have an understanding of what's involved. If you already know, great, we will quickly talk you through how we work to make sure you get your CGIs on time, on budget, with the least amount of hassle, every time. If you've never done it before we'll walk you through our process to ensure it's stress free for you every step of the way.
How long does everything take?
We'll always ask if you have a deadline that needs to be met before we take your job on. We'd rather under-promise and over deliver. If we can't meet your deadline we'll be honest from the start. Once the job is booked in, delivery times will mostly depend on how quickly we get the info we need and the feedback required. Once we have all the information we need to get started an average set of CGIs will take around 1-2 weeks to get to low resolution stage. But we will keep you posted of our progress at all times and if you have any questions, queries or issues there's always someone at the end of the phone who will help you straight away. We're a small company with a large capacity, and we pride ourselves on our customer service. We understand your deadlines are important and we'll make sure we meet them.
Send us your plans, we'll have a chat to get a clear idea of your requirements and help you decide on the type and number of images you need if necessary. Our 3d visualisation packages are aimed at getting you the best possible value for money whilst not having to compromise on quality. If we know what budget you're working to, we'll always make sure you get a suite of content that puts you ahead of your competition. We'll send you a competitive proposal, and once we've agreed the finer details, production can begin as soon as we receive all the required information and the deposit payment.