CARSON POWELL – KIDSGROVE SECONDARY SCHOOL

BRIEF
We were approached by construction company Carson Powell to produce a set of CGIs to help their clients, the teachers and governors of Kidsgrove Secondary School, visualise the improvements they had been contracted to carry out. Their clients needed to make a decision on the new render and cladding colours before work began, but couldn't imagine how the proposed changes would look. With this project, time was of the essence. We were commissioned to do the work on a Wednesday teatime, and the images were required for the following Tuesday lunchtime.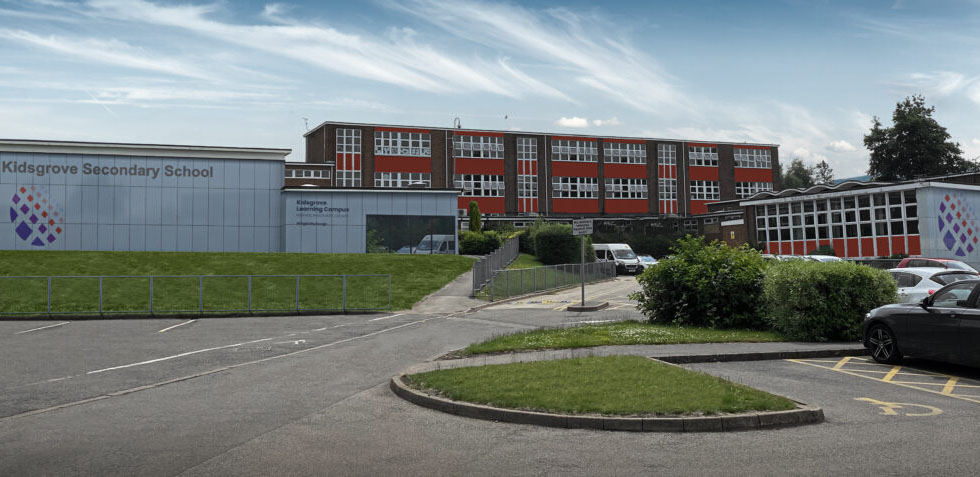 SOLUTION
To hit the deadline, we had to juggle our production schedule around free up one of our photomontage specialist artists to work on this project, in between his other work. Two images were required initially showing the new render colour (red), new cladding and new reception area doors (pictured above). On the Monday morning we delivered the two images and upon viewing them, the school realised that red was not the colour to go for as they had previously thought. They commissioned several more colour options and also requested some changes to the images with regards to tree and car removal, additional logos and the cladding. We were also asked to change the paint colour on a smaller building that was also in view.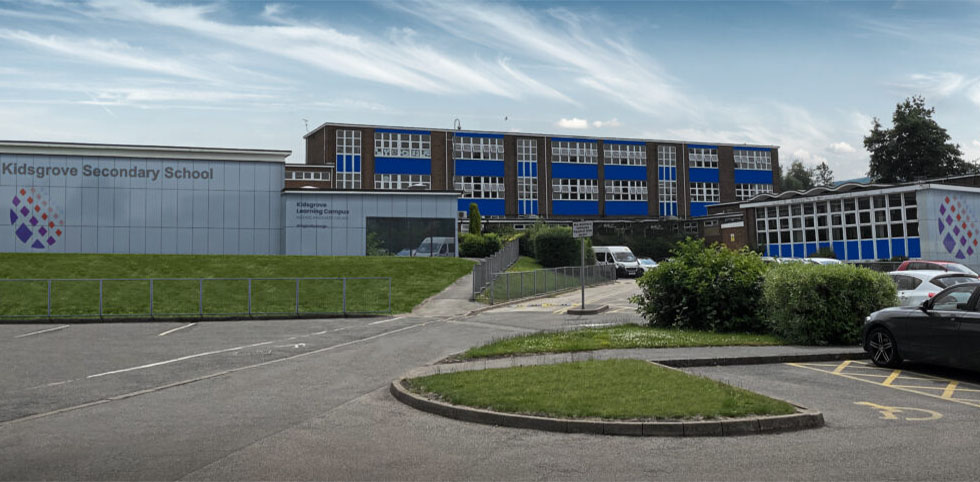 RESULTS
Our artist worked late on the Monday to apply all the changes and create the new images in time for the meeting which was scheduled for Tuesday afternoon. The final images were ready for delivery on Tuesday morning, and all the changes and amends were checked carefully by the account manager before being delivered to the client. Both the construction company and the staff at the school were very pleased with the results, as can be seen from the email of thanks we received.
Deliverables:
2 x Photomontage CGIs
6 x Additional photomontage CGIs, incorporating additional elements and changes.
BUDGET – £870

"I just wanted to write a quick email to say thank you so much for all your help regarding this project. The service I have received for this tight deadline project has been outstanding. The visuals themselves are to an exceptionally high standard and have blown not just myself but my client away. With the assistance of yourselves we have actually been able to get some decisions from the school as they can visually see what they will be getting, this was always an issue and has helped us when there is very little time for us to change things before our project starts. For any projects like this in the future I will definitely be using yourselves and would recommend this service to anyone who would be on the fence for paying for this service. Thank you again so much for yours and the team's help, please pass on my regards to anyone involved in this project."
Reece Mayer, Building Surveying Apprentice

WE WOULD LIKE TO FIND OUT MORE ABOUT YOUR PROJECT
TO MAKE SURE YOU GET THE BEST MARKETING VISUALS.
PLEASE GIVE A US A CALL OR DROP US A MESSAGE.