URBED – STORRS BRIDGE LANE – LOXLEY VALLEY, SHEFFIELD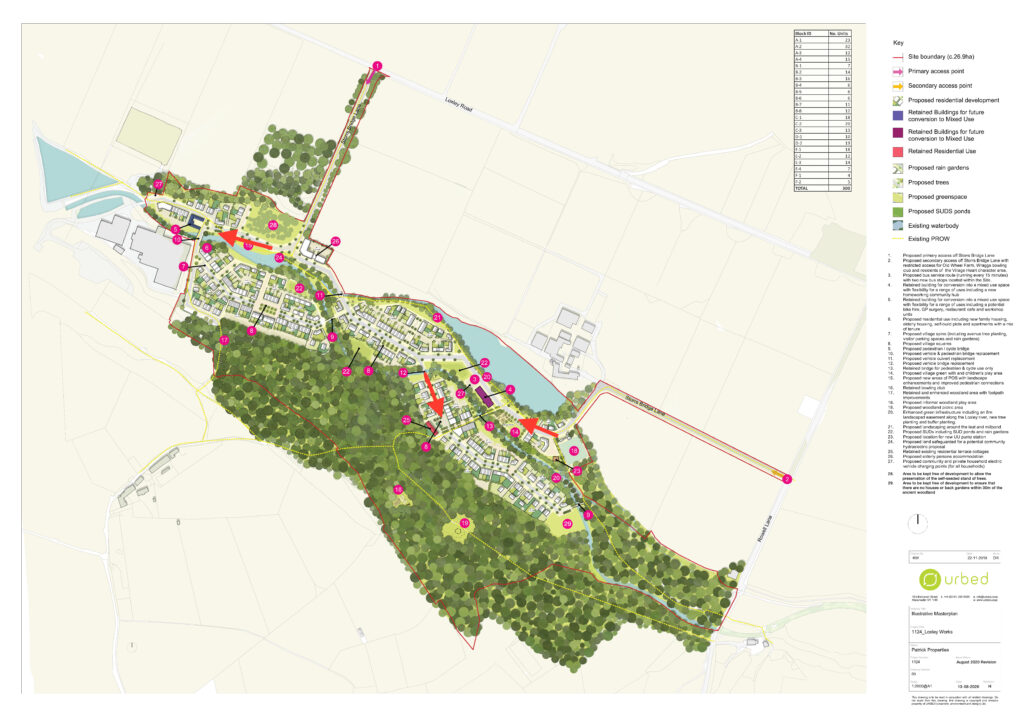 BRIEF
We were approached by urban environmental designers, Urbed, to create a suite of CGIs to support a planning appeal to build a new township of up to 300 homes in the Loxley Valley. The land is currently a site of old abandoned factory buildings, and Urbed was putting together a detailed proposal for the planning appeal to convince planners that the area would be much improved by building much needed, community-centred housing. Their proposals included creating a community hub with a locally-grown fruit & veg shop, a café and a library. However, there were no detailed plans for the types of houses that would be built as they hadn't yet been designed, so we were given guidelines as to the kinds of buildings that would be built.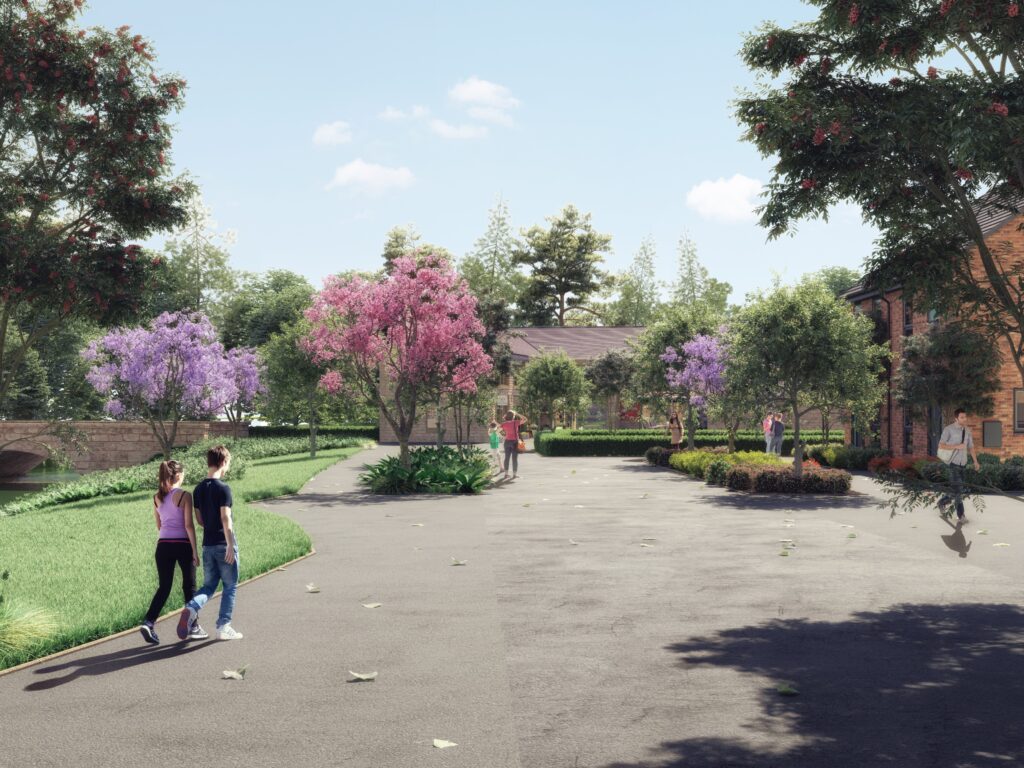 SOLUTION
We started work two months prior to the planning appeal deadline – more than ample time to produce the initial three images required – 1 street scene and 2 images focussed around the community areas. We used buildings we had previously created from our library and, guided by their architectural designer, adapted them to create the style of housing Urbed had in mind for the development.
Once their client had seen these images, with three weeks until the appeal deadline, he wanted us to produce a further 4 images of different areas.
He had also commissioned drone footage of the valley highlighting the dilapidated areas and wanted us to produce an animation which could run alongside the drone footage as a split-screen, showing what would come in its place. Given the amount of modelling and rendering time involved in creating such an animation, it simply wasn't possible in the time frame. An animation of that size would require at least 2-3 months' production time.
So we looked at other ways we could present the same information, quickly and cost-effectively. We decided to composite the images we created into the drone footage and annotate them. However, the client was insistent that some sort of animated sequence at the end of the footage, honing in on the community centre would be extremely powerful.
RESULTS
We created a final sequence of scenes where, rather than using traditional animation techniques requiring 25 frames per second, we employed the use of camera panning, stylishly editing 3 images together and adding in 3D animated people to give the impression of an animated sequence. Producing the extra images and adding the animated elements was a much quicker process that animating the entire sequence would have been and was therefore achievable in the time-frame, just about!
Deliverables:
9 x CGI images
1 x video production including images and animated sequence.
BUDGET – £10,360

"We wanted to find the right CGI company that would be able to deliver a set of CGIs within a tight timeframe but to a high quality. The Pixel Workshop was the right match for us as they were able to produce a fantastic set of CGIs in response to the demanding timescale. A big challenge was that we required additional CGIs and a bespoke film to go alongside the original commission but still with the tight deadline. The Pixel Workshop were very flexible and responsive to our needs and managed to deliver all the additional requests still within the deadline to a fantastic standard. We worked directly with Olivia, who was great at keeping lines of communication open and dealing with our requests. The team produced a fantastic output and we would happily work with them in the future and recommend their services."
Kat Wong, Consultant for Architecture, Planning and Design, Urbed.

WE WOULD LIKE TO FIND OUT MORE ABOUT YOUR PROJECT
TO MAKE SURE YOU GET THE BEST MARKETING VISUALS.
PLEASE GIVE A US A CALL OR DROP US A MESSAGE.