CGI FLOOR PLANS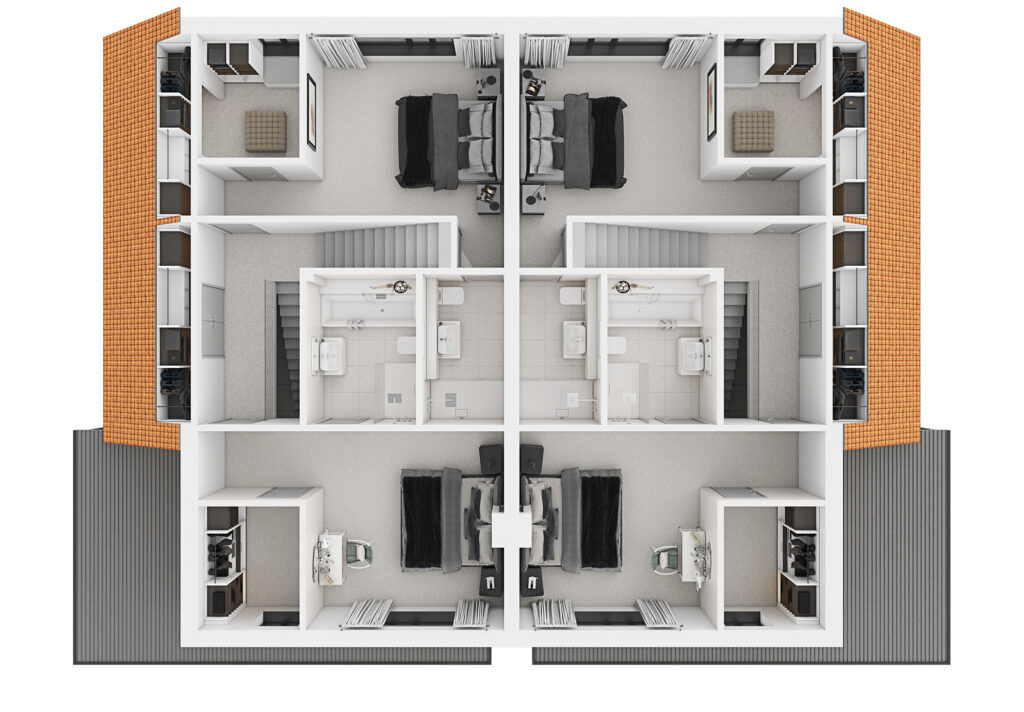 CGI floor plans are a great way to complement exterior and interior stills.
Or if your budget is tight, you can opt for 3D floor plans instead of going for full interior renders.

Choose from top-down CGI floor plans (pictured opposite) or bird's eye angle CGI floor plans (bottom far left and far right). If you're building apartment blocks we can create interactive floorplates which are colour-coded to highlight different apartment types. Clients can click on an apartment type to view it as a close up 3D floorplan, a montage of interior stills or an animation.

The advantage of 3D floorplans as opposed to simple 2D floorplans is they demonstrate the size and shape of a furnished room, giving house-hunters a succinct idea of how the spaces in their new home will function.
CGI FLOOR PLANS That MOVE YOU AHEAD OF YOUR COMPETITION
If you're not sure what marketing content is the best for your project, don't hesitate to give our experts a call. We would love to hear more about your development so we can put together a package which will showcase all your USPs without breaking the bank.

Choosing the right combination of content goes a long way to selling your properties faster. There are always ways in which we can deliver 3D architectural visualisations to fit your budget, without you having to compromise on the quality of the images or animations.

If you're looking for floorplans, let us help you decide on a combination of elements which will put your properties in the spotlight.
WHAT OUR CLIENTS SAY ABOUT US
"This is the first time we have worked with The Pixel Workshop…We have been very impressed with the quality of their work and their approach to the process.
The images have allowed us to market the properties at an early stage in their development. With the level of interest we have received from buyers so far, we fully expect for them to be sold in advance of their completion – something that would have been unattainable otherwise."


Alex Marczycha, Marketing Manager, CZW Homes

"We wanted to find the right CGI company that would be able to deliver a set of CGIs within a tight timeframe but to a high quality. The Pixel Workshop was the right match for us as they were able to produce a fantastic set of CGIs in response to the demanding timescale. A big challenge was that we required additional CGIs and a bespoke film to go alongside the original commission but still with the tight deadline. The Pixel Workshop were very flexible and responsive to our needs and managed to deliver all the additional requests still within the deadline to a fantastic standard…"

Kat Wong, Consultant for Architecture, Planning and Design, Urbed.

"The Pixel Workshop really brought to life the vision for our new build new homes. They understood our brief and produced high quality CGI images, both internally and externally. The images have really complimented our homes and added value to our marketing. It has been great working with Olivia and the team."






Phil Jones, Senior Project Manager at First Choice Homes Oldham


WE WOULD LIKE TO FIND OUT MORE ABOUT YOUR PROJECT
TO MAKE SURE YOU GET THE BEST MARKETING VISUALS.
PLEASE GIVE A US A CALL OR DROP US A MESSAGE.