A cost-effective CGI service that saves you money.

With the economy on a downward trajectory, resources are tighter than ever for clients and suppliers alike – with the clamp down on mortgage offers compounding the issues property developers already have with rising materials and labour costs, it's a good time to reassess priority when it comes to spending.

One thing is for certain, now isn't a time to compromise on the quality of marketing imagery. According to financial experts, it's looking like the buoyant housing market is about to take a down-turn, so attracting new house buyers will most likely be more difficult than it has been during the golden era of the post-lockdown years.
Deflect the effects of economic downturn in the housing market with quality CGI that works with your budget
"The fall in mortgage lending points to a loss of momentum in the housing market, which boomed during the pandemic. Lloyds Banking Group Plc, the biggest UK mortgage lender, this week predicted house prices will grow just 1.8% this year and fall 1.4% in 2023." –Bloomberg UK

"While there are some expectations house prices will fall 4 per cent in 2023, others predict drops of up to 10 per cent by the end of 2024" –Financial Times Advisor

"Mortgage approvals also fell in June, from 65,700 to 63,700, below the pre-pandemic yearly average, suggesting many homebuyers confronted with the cost-of-living crisis do not have sufficient credit quality to secure a mortgage." –Proactive Investors
A no-nonsense approach to pricing your project
As a CGI supplier who has weathered several market crashes since we started in business, we are always careful to keep pace with changing market forces and make sure our products and services are aligned with what our clients need.
And what they don't need. If resources are tight, so is time, and at Pixel we understand that you need answers and figures, rather than cryptic solutions. While it's difficult to accurately price up a job without seeing the plans, we're experts at what we do and as such we can give a fair idea of what a project might cost to execute, based on an idea of what you have in mind and, unlike other a lot of other suppliers, we're happy to give such ball park figures over the phone.

We're also one of the very few suppliers who has a price page with examples to give you a better idea of what your project might cost. For more details, our Case Studies aren't just a collection of pretty pictures – each project here has been carefully chosen to highlight how we have dealt with tricky issues, and to show a wide range of project types – all with real life budgets included so you can see what other clients have received for their money, and how we've delivered a cost-effective CGI service.
How we deliver a cost-effective CGI service
Key to our ethos is saving you money whenever we can, without you having to compromise on quality. This means we look at your development holistically, we'll ask you how you're planning to market, what the USPs of the development are, what the barriers to selling might be, and we'll always have a careful look at your plans before suggesting the minimum amount of CGIs required to ensure your core market gets a real feel of all your USPs.
Because we also produce brochures, we've got a clear understanding of how your images will be contextualised. Quite often clients come to us wanting more images than they really need. And when it comes to image choice, one of our real strengths, we'll think out of the box to suggest images which will do what they're meant to do – sell your properties in time – even in a tight marketplace.
Case Study: helping one client get much more for their money
In the example below, our client Gleeson Build & Develop was originally wanting a kitchen shot to show the high ceilings in one of the flats (flat 4). However, when we mocked this up as a white block view it became apparent that the room wouldn't translate well to CG – the kitchen cupboards looked at odds with the high ceilings so rather than them being a selling point, they weren't going to look good. Additionally the living room was coming across as too small: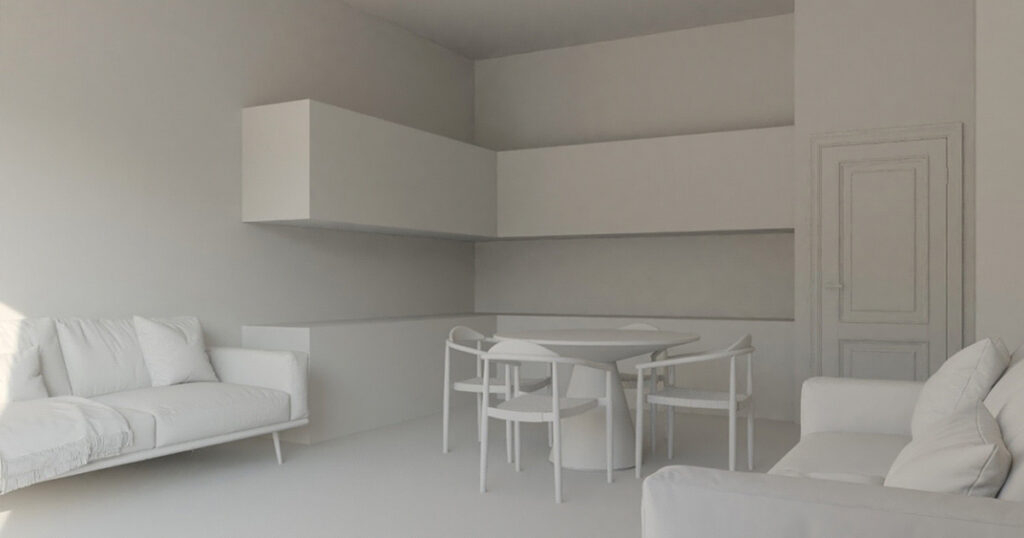 So rather than continue with it, we suggested showcasing a different flat, flat 4, and to include a balcony scene as well – at dusk for that additional aspirational quality: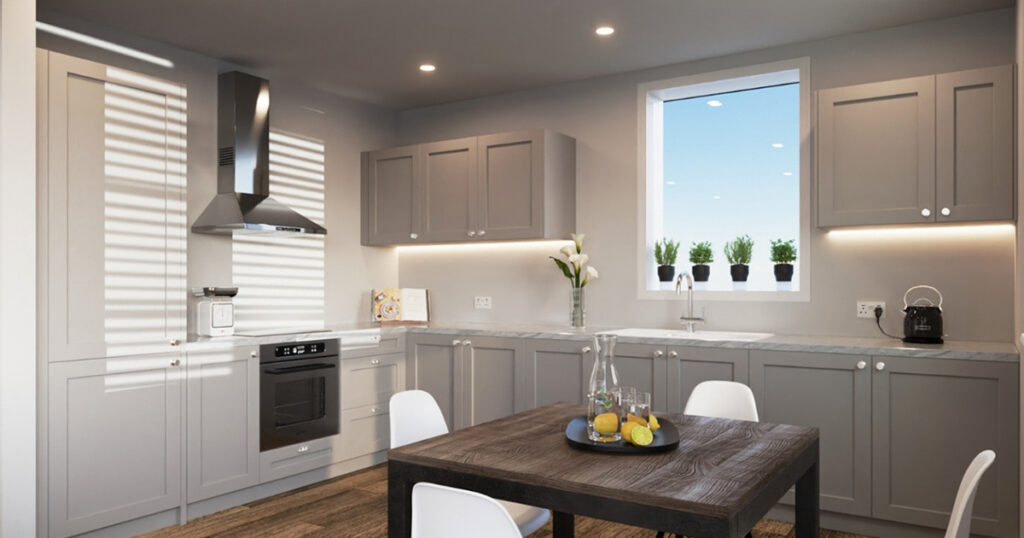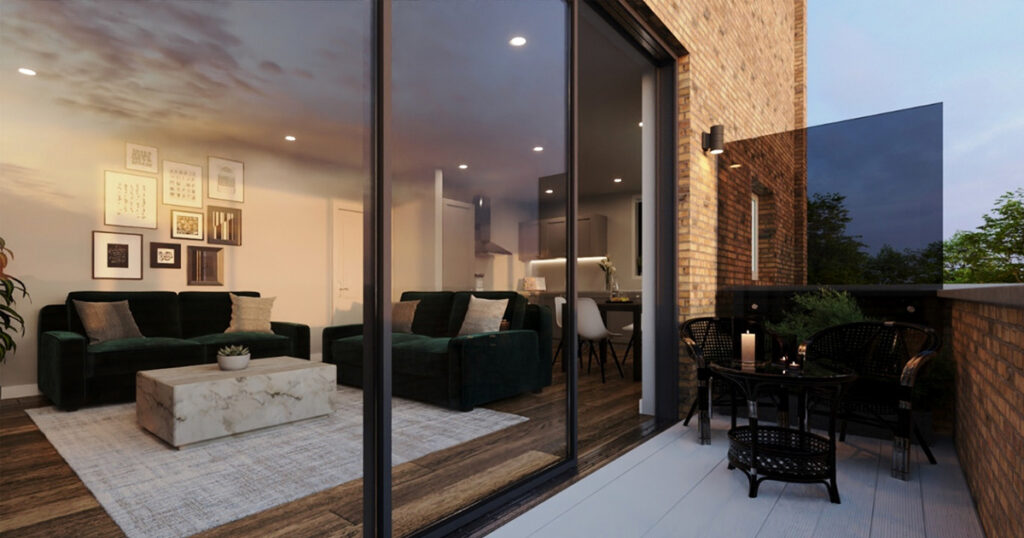 The resulting package was produced for the original budget. It is part of our production process to be consultative at all times, drawing on our experience to make sure you get the best possible combination of shots, which will do the job you need them to do.
Realistic processes, costs and timelines lead to cost-effective CGI
From the outset we're clear about our costs, our processes and realistic timescales. We'll always ask you when you need your content by and we'll check our production schedule before we commit to delivering. It doesn't help you to hear you'll be receiving 10 interior shots within 10 days when that simply isn't possible. Styling is a key component in creating aspirational interior images which trigger your potential buyer's subconscious buying reflexes and it is unrealistic to expect the styling and creation of 10 spaces to be produced in such a time frame.
The outcome: a transparent and stress-free CGI service
At Pixel, we believe honest and effective communication are key to building the trust required to cement a long term working relationship. We're not a one-trick pony. We take your deadlines seriously. We make our processes clear from the start so you know how timelines are affected by your input. We are clear about our pricing structure and what it includes. Transparency in all these aspects goes a long way to creating a a stress free service which gives you the time and freedom to concentrate on all the other elements of your development, secure in the knowledge that the money you are spending with us is doing the job it needs to, when you need it to.
For a free telephone consultation about your project, please call Olivia on 0161 641 9083.