With ever-decreasing marketing budgets in a world of increasing CGI requirements, cutting back on staging show homes is starting to become a new trend, rendering the styling of interior images an important factor to consider.
As a property developer your primary concerns naturally fall to the bigger issues involved in building a block of apartments: winning planning permission, selecting the right contractors to do the construction and building work, pricing up all the materials involved in creating the build and financing it all, not to mention making sure the build progresses in the face of natural disasters, global pandemics and Brexit.
But at the same time you've got to make sure that your build will sell in time, and in the current climate it's more important than ever to inform potential buyers prior to them coming to site. House-hunters expect it all on a plate – they want to see what you're building before you've built it, in more detail than ever before. Pre-Covid, virtual tours and fly-throughs were an added nicety, now they're an expected given. House-buyers want to be able to look round their future home in detail. They want to know all about their site before making that appointment with your sales office.
The flip-side of this is that they arrive on site further down the sales journey than they used to be. Show homes are increasingly playing host to house-hunters who have already persuaded themselves that here is a home they would like to buy. Gone are window shoppers and the walk-in passersby that were coming for a nosey; they are being replaced with potential buyers who mean business.
That's if you've managed to get the marketing right. And getting it right is finding the balance between the need to inform and the need to keep a rein on the purse strings. It's a balance that's different for every development – I was asked by a client the other day at what point do we go for interior images? How big does your development need to be to warrant them?
There's no simple answer to this question, because it depends on where the development is, how likely it is to sell, who you're selling to and what the local competition is. It depends on price point, who your clients are – are they local, are they out-of town? Will they be buying as a second, holiday home or are they London commuters? If the demand in the area is high for the price range and you're expecting your units to fly out – get the bare minimum – a fabulous exterior hero shot and floor-plans will do.
How soon do you want to start selling? If you want to sell off-plan and you're looking at 8 units upwards then there's no opportunity for scrimping on CGI assets – you'll need your exterior shot and a set of interior lifestyle images – you may also want to consider a fly-through and/or an interactive 360 tour.
And lastly, are you going to have a show home or just a sales suite? Interior CGIs start working harder for you earlier on and negate the need for expensive photography at the end of the build. Interior CGIs have the added advantage of being able to get the perfect shot without having to create images from impossible angles which don't do the room any justice. If needs be, we can sit our camera inside walls, and we can always make sure lighting set-ups are the most conducive.
More and more property developers are choosing to do away with a staged show home – rather an empty but finished property with the kitchen and bathroom installed. The other rooms can be neutrally painted and carpeted to let your house-hunters' imaginations run wild. Easier for them to imagine what the living room would look like with their own furniture in it – and to help them along you can blow up your beautifully-styled 3D renders and hang them on the walls.
Which brings us back round to the importance of styling. If you're not having a show home, therefore not having an interior designer, who is going to style the shots?
Chances are you've got enough on your plate without having to worry about what kind of cushions would look good on the penthouse living room sofa. And also, for that matter, what kind of sofa it should be.
Yet it's exactly those kind of details that have a big impact on what makes the difference between a functional interior image and an interior image that blows your socks off. It's not until you start trying to style a room that you see just how much goes into this – it takes a certain amount of skill and time to style a room aimed at a core market.
CGI artists are experts in their field…they know how to build a room-set, texture it and light it, but unless they've had interior design training, they don't necessarily know how to compose a shot. Where should the furniture go? What style of room would you like? Scandi? Modern contemporary? Urban Modern? That's fine as a starting point but there are lots of options and variations within each broad style category.
But if budget is strained and you don't have a budding stylist in the family, finding a CGI company with an in-house stylist can be a cheaper option. Some companies have in-house stylists, others charge extra to outsource. Others will work with you to help create your own mood-boards before committing to CG.
Whichever way is best for you, it's an important question to ask when considering which supplier to choose.
Compare the two images below: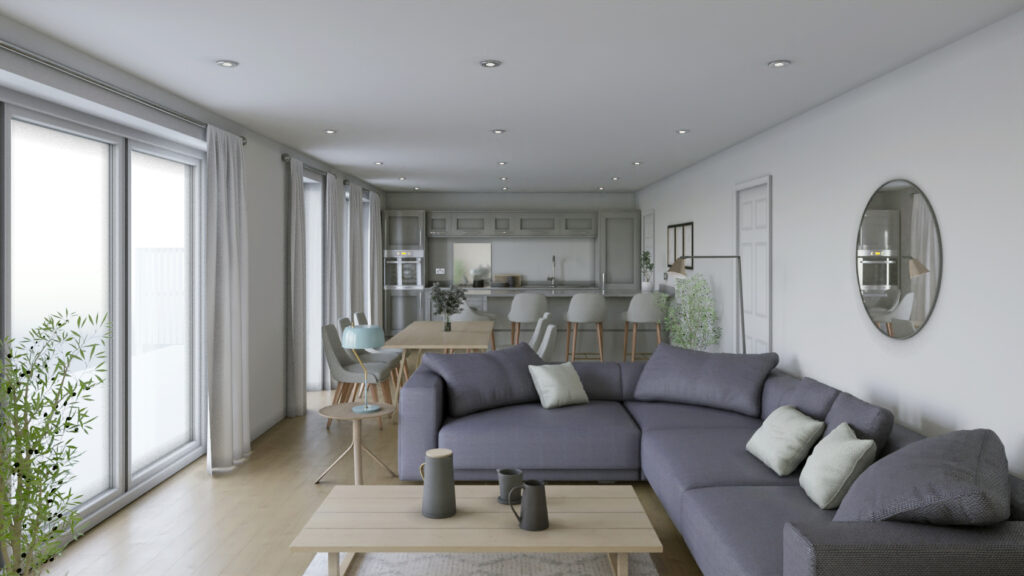 Basic Interior Look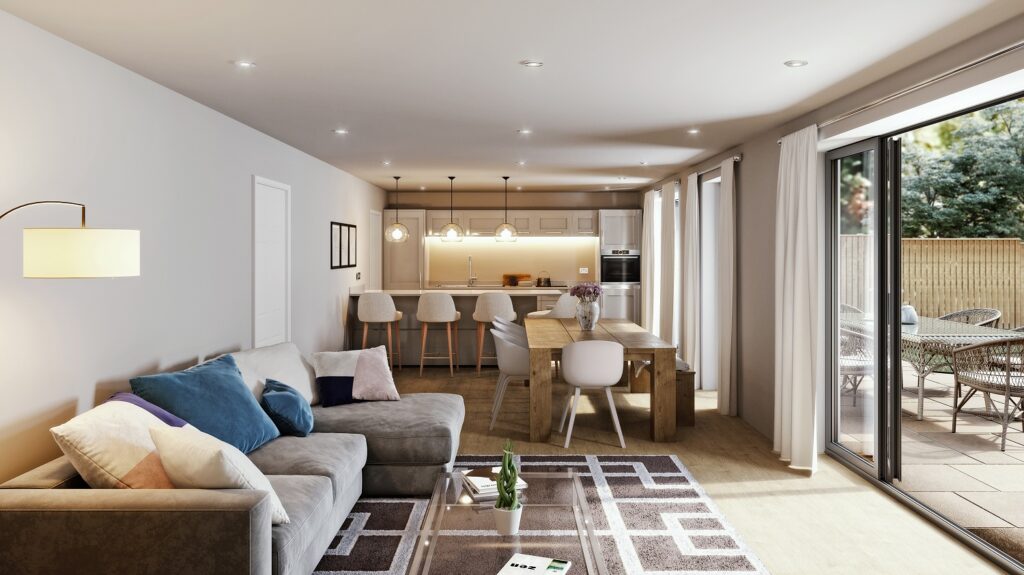 The first CGI is an early image, with functional, basic style guidelines provided by the client. The lighting has not yet been worked on. The second image has been fully styled (and the lighting has been applied), and the difference is clear. Our brief was to produce a modern clean, Scandi look.
Styling is crucial to the success of your marketing campaign, and it is no mean feat. So when choosing your Interior CGI provider, it's worth having a look through their portfolios and quizzing them about it. Do they work from client references only? Or do they input on styling, and most importantly, is this cost included?